From 1980 - 2017: Updating Storage to Reduce Clutter
Chaos and clutter seem to follow me everywhere. As quickly as I'm able to organize one area, another is already in shambles. It's a never ending circle of declutter-cleaning-declutter-cleaning. I'll admit, I'm partially to blame for this. I enjoy collecting knick-knacks and I have a hard time parting with older items. A good example of this was the 1980's dresser we had in our room.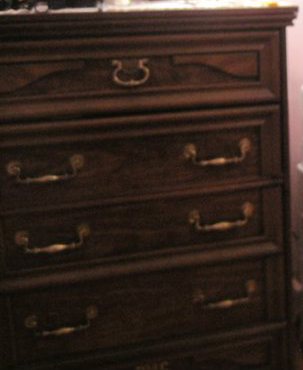 This dresser was originally owned by my parents who then passed it down to me. I've had this dresser for as long as I can remember. In 2012, I got married and moved out of my parents house and took the dresser with. By this point, it had a bit of a makeover. I painted the body a softer brown color and the handles silver. It was a slight improvement, but didn't help the fact that it was bulky, outdated and didn't match the rest of our bedroom furniture. I was fine with this since there was always something more important worth spending our money on. Because of this, replacing the dresser was always pushed aside. For the past 5 years, my husband has used it for his clothes - and it served it's purpose. Until he started running out of drawer space and began stacking his clothes on top. Finally we decided it was time.
Anyone in their 20's knows the best [and typically first] place to search for cheap, affordable furniture is IKEA. Granted, I've had mixed experiences with IKEA furniture, but overall it's been fairly positive. The first obvious choice was to buy an entirely new dresser, but after strolling through IKEA, we quickly realized how much smaller their dressers were. Space was already an issue, so we had to come up with another solution so we scrapped that idea. This is when we wandered into the wardrobe section. I never even considered a wardrobe as an option. But upon closer inspection, it appeared we would have the exact same issue + it would take up more space than our 80's dresser. That's when we discovered the PAX wardrobe system. The vast customization was what ultimately sold us on this. My husband decided he would remove all the old shelving and doors from the closet in his office (which were original) and replace it with the IKEA PAX system.
With our measurements ready, we descended down into the "IKEA Dungeon" to collect all the pieces we needed. We bought the 2 side-by-side system (1 side being slightly larger than the other), 4 large metal baskets, 4 small metal baskets and 2 closet rods. We opted out of the door only because we weren't sure how well it would fit within the closet. All these came out to be about $620. Not too shabby!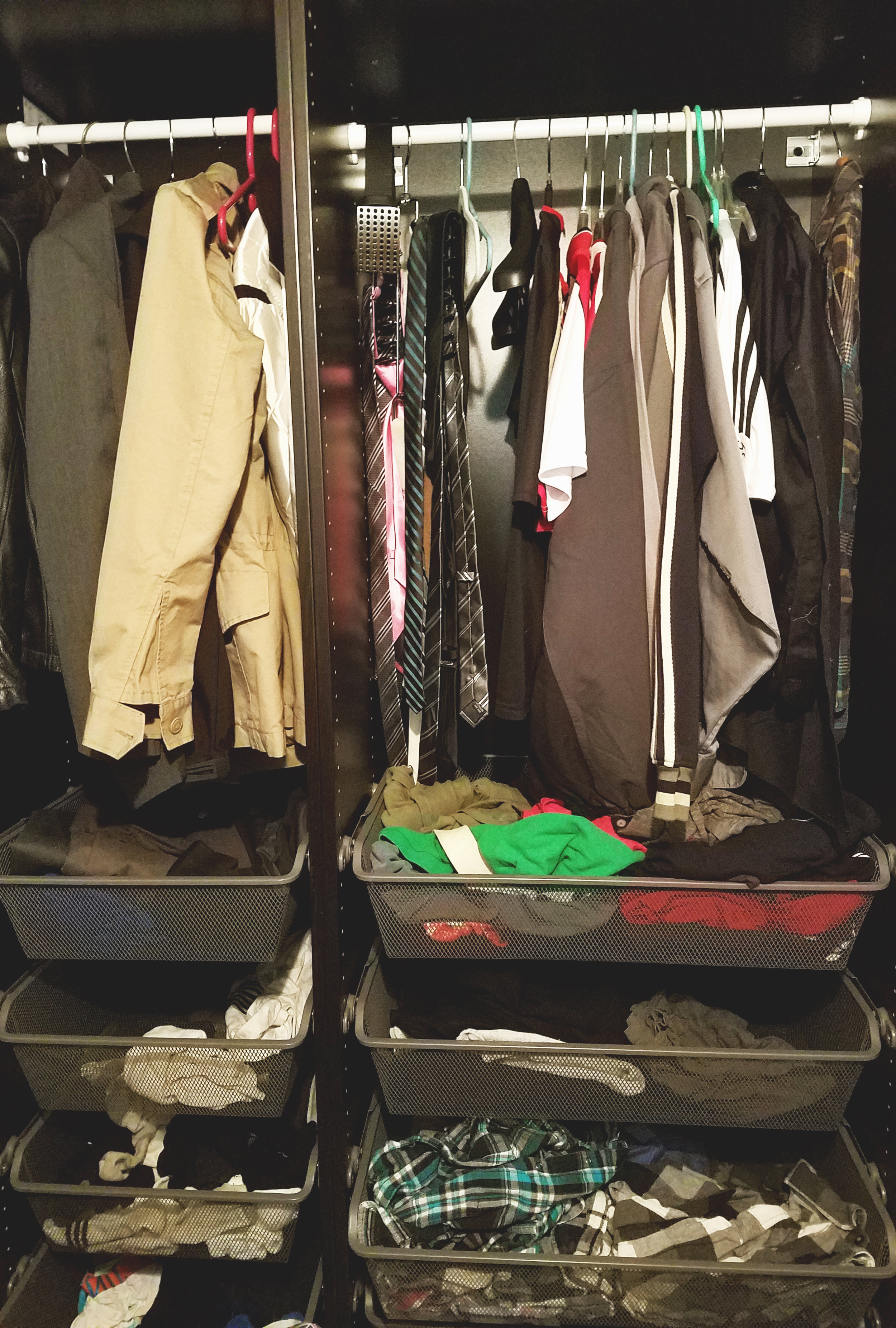 As soon as we got home, my husband began the process of putting everything together. Overall it took him about 2 hours in total to remove all the shelving & doors in the closet as well as putting the entire system together. Honestly what took the longest was setting up all the metal baskets inside. Each basket came with 2 slides but everything was double-wrapped and rubber-banded together so it kind of took a long time unwrapping everything. Making sure all the slides were evenly spaced apart, we put on the final touches and I helped him move all his clothes from the dresser into the closet organizer. I am so happy with how it came out and there's plenty of room to spare! My husband is able to fit all of his clothes in the closet with ease.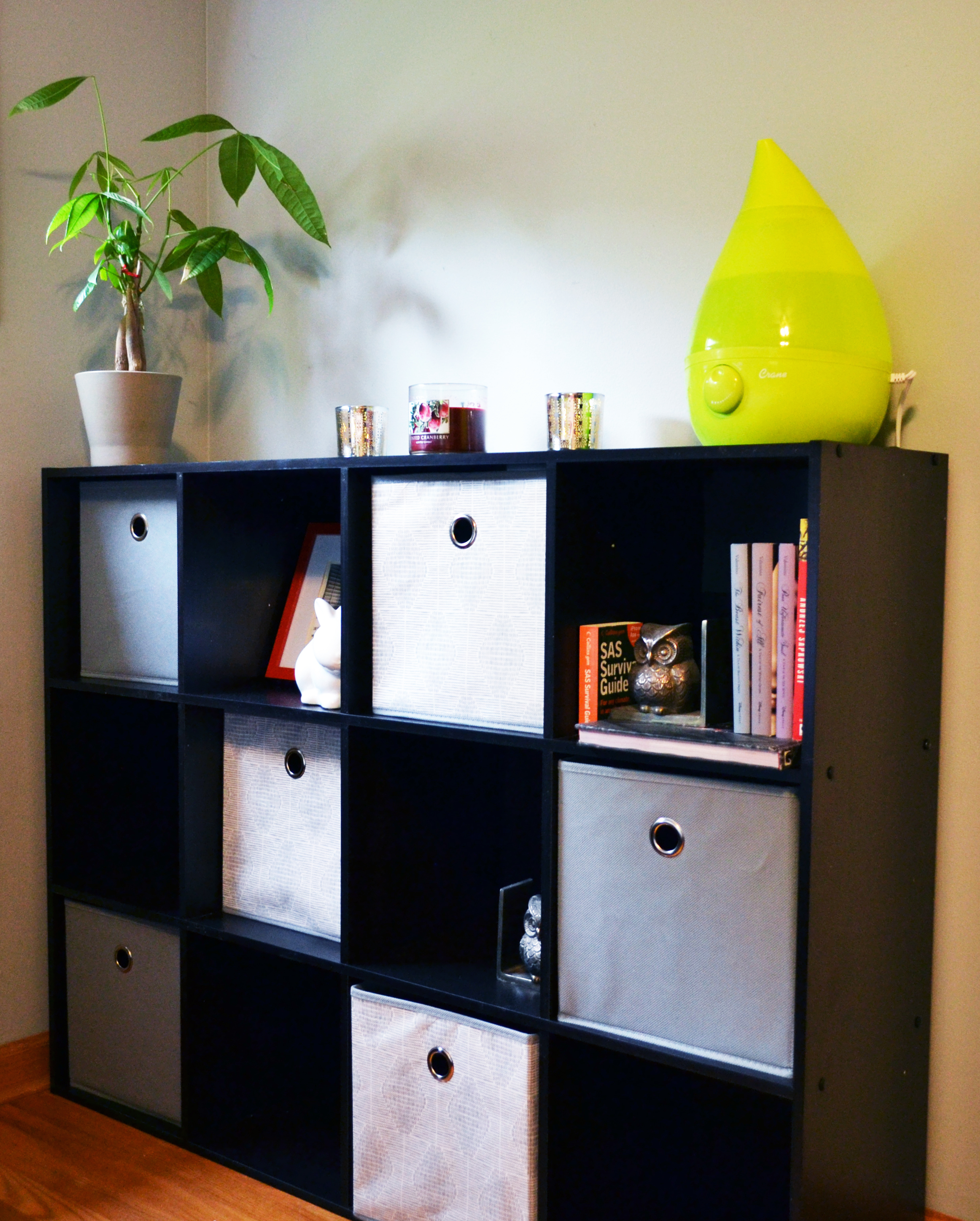 Since we no longer needed the dresser, it was time to say goodbye and out onto the curb it went. Without the need of a dresser and this large area to fill, I had to figure out what to put in its place. I wanted to find something with a lot of storage, but also wouldn't allow my husband to by lazy and pile junk on top of it. Being an Amazon Junky, that was the first place I turned to. After searching around, I discovered the ClosetMaid Cubeical Organizer. I really liked the design and it would allow me to have plenty of storage with the capability of adding storage cubes. I ended up going with the 12-Cube Organizer because it fit perfectly in the space available. When it arrived, I immediately put it together. It was fairly easy to assemble (took me about 45 mins alone), but I would recommend having someone else to help hold it while you install the shelving. I absolutely love it and I highly recommend this product to anyone in need of more storage.
I've included a link at the bottom if you're interested in buying this organizer for yourself.